Our Quarrystore Delivery Mission Statement
At Quarrystore, we aim to get your products, to your door as efficiently and promptly as we can. But to help give you peace of mind we have answered some of your most frequently asked questions below.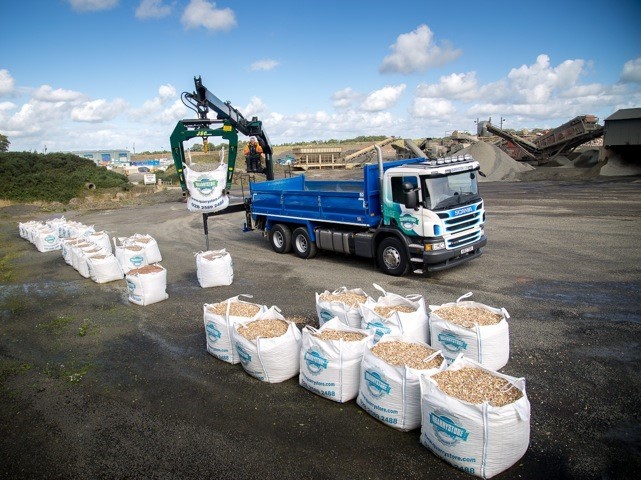 Question 1. What does Quarrystore supply?

At Quarrystore we supply a range of natural stone products which include decorative gravels, sands, general aggregates and gardening supplies including weed control fabric and topsoil.

Question 2. Can my goods be collected?
Yes, goods can be collected at Tully Quarry, 116 Moorfields Road, Ballymena, BT42 3HJ. You can find us on google maps or find our location on our 'contact us' page.

Question 3. Do I need to be present for delivery?
Yes, ideally delivery goods should be approved by the customer on their delivery, before offloading.

Question 4. Can Quarrystore deliver to you?
We deliver throughout Northern Ireland, but primarily to our three main delivery zones. Each postcode is designated into one of these, as shown in the table below. If you cannot find your postcode and you are within Northern Ireland your delivery will be completed by a tail lift lorry, using the pallet delivery network. Please contact the office if you have any further questions regarding this or you would like a delivery to mainland UK or ROI.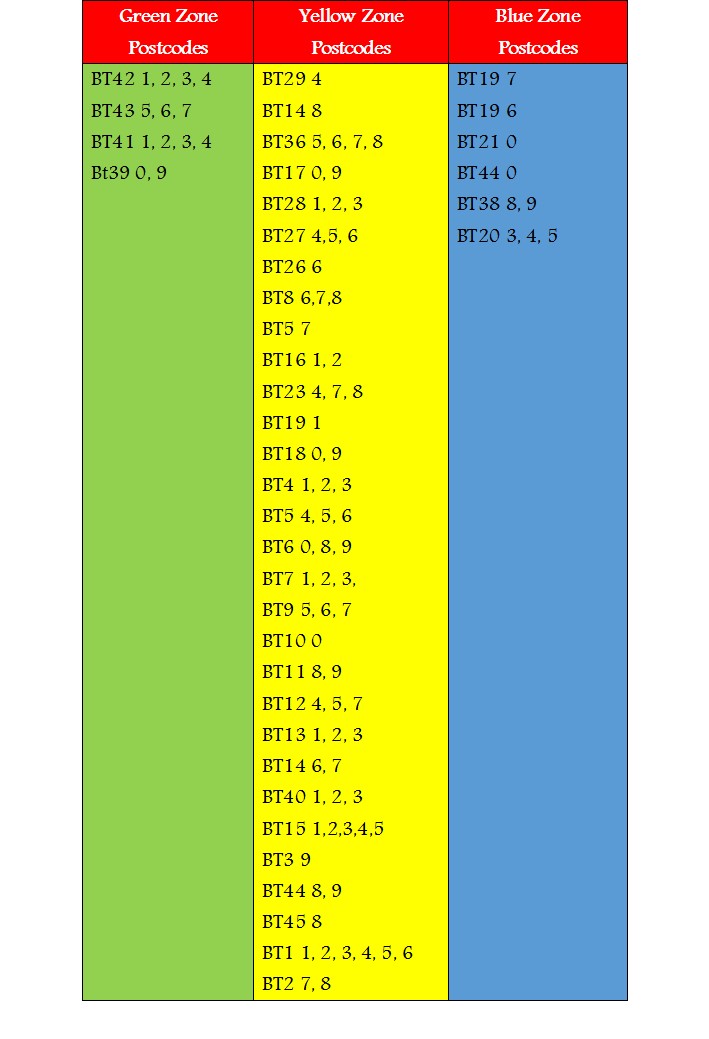 Question 5. Is my driveway too narrow for delivery?

Delivery is our speciality and we will do our best to make your delivery happen. However, if there are difficulties that you can foresee then please contact us and let us know what they are, so that we can adjust your delivery accordingly. When the access is not suitable for a heavy vehicle, offloading will be at the discretion of the driver. In this circumstance, delivery can only be made at the kerbside.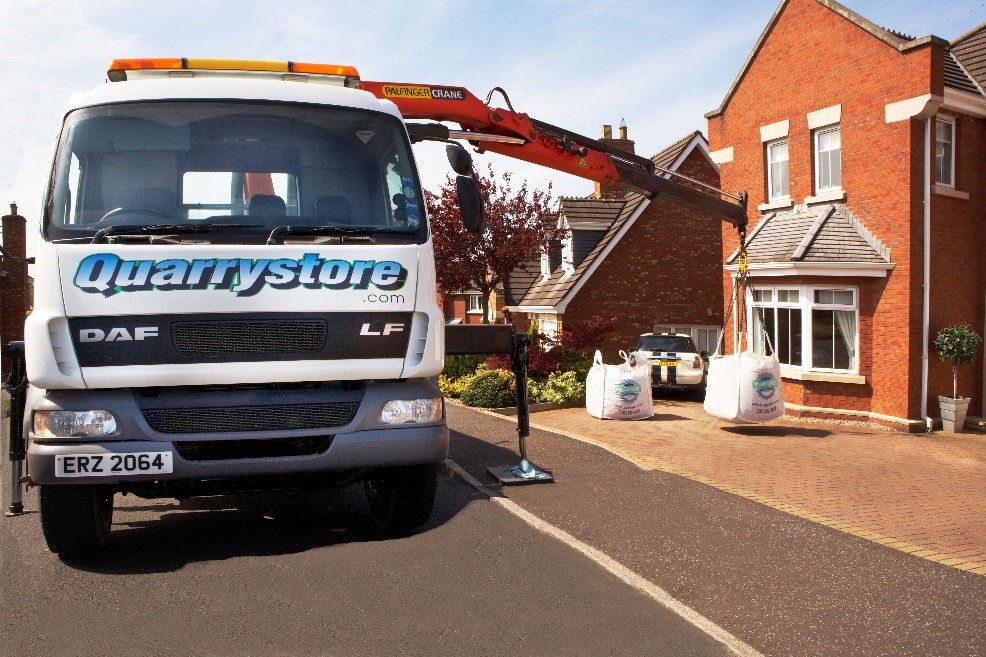 Question 6. How fast can you deliver?

We want to get your products to you when you need them most. So we offer you the choice of a 'standard delivery' which is 2-5 days, or a next day/ Saturday delivery.

Question 7. How much will delivery cost?
You can do this for yourself if you follow these two steps and use the table provided.
• Firstly, find out which zone your delivery address is in. It is important to note that the Green, Yellow and Blue zones will all be delivered by Quarrystore craned lorries.
• Now, what is the nature of your delivery? For example, is it a next day delivery you need and do you need only small bags? Use the table below to find your delivery charge.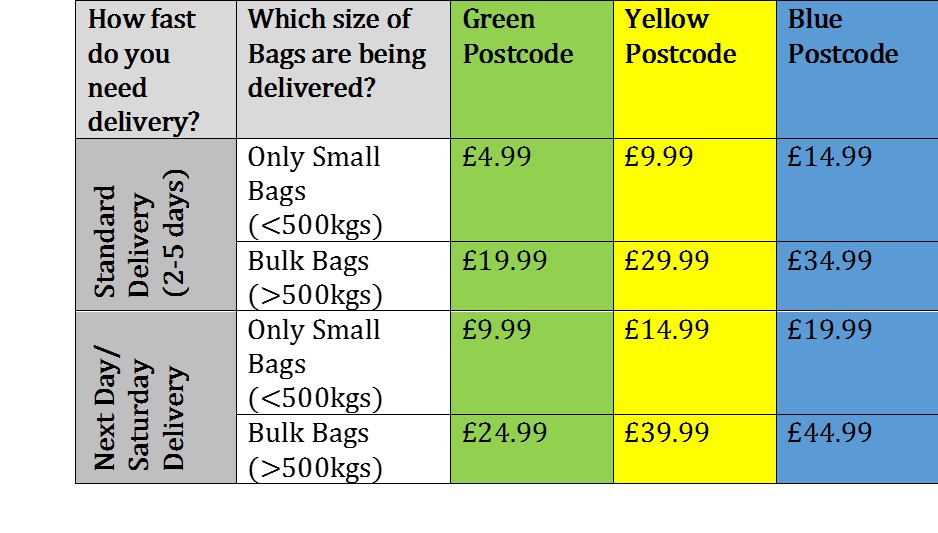 PLEASE NOTE: The table above applies for a maximum of 9 Bulk Bags within each zone.

Question 8. If I am unhappy with my goods can they be returned?

If for some reason, you are not happy with the products received we will refund your purchase price, 100%. Yes. No hidden fine print. 100% refund!
If your order needs to be returned we ask only a few simply considerations:
• If you are unhappy with your product, please inform the driver before the bulk product is tipped. After the product is tipped no refund is applicable.
• If you are unhappy with products that are bulk or small bagged then you must inform the delivery driver at the time. We can then remove the product and save a trip back to the delivery location.
• If any of the product has been used, or the bag/product is not in the same condition as delivered, there is no refund applicable (you cannot use any portion of the product or damage the bag/product).

Question 9. What if I have to cancel my order?
If you have placed an order online and then cancel prior to delivery for whatever reason, we will gladly refund your purchase minus your card processing fees (5%).
We are confident our prices, products and service will impress you and there will not be any need for the returns policy; but it is there to give you peace of mind should you need it. To date, we have never used it.