Our Quarrystore Delivery Mission Statement
At Quarrystore, we aim to get your products, to your door as efficiently and promptly as we can. But to help give you peace of mind we have answered some of your most frequently asked questions below.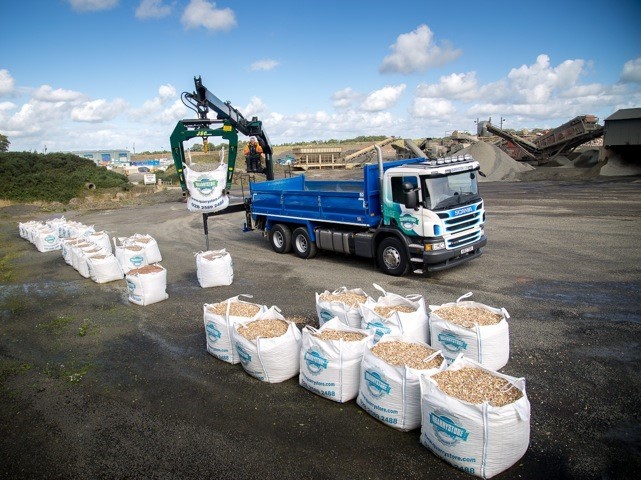 Question 1. Do I need to be present for delivery?
Ideally delivery goods should be approved by the customer on their delivery, before offloading. If that's not possible leave us some delivery instructions on the notes section of your order and we'll try our best to complete the order as per your instructions. PLEASE NOTE DELIVERIES BY PALLET MAY OCCUR AN ADDITIONAL FEE IF YOU ARE NOT present for delivery.

Question 2. Can Quarrystore deliver to you?
We deliver locally throughout Northern Ireland, but primarily to our three main delivery zones. Each postcode is designated into one of these, as shown in the table below. If you cannot find your postcode and live in Northern Ireland your delivery will be completed by a tail lift lorry, using the pallet delivery network.
We also deliver across the UK (England, Scotland and Wales) using pallet delivery service or postal service. Any small bag orders can be placed through our website. Any bulk orders please contact us to arrange the pallet delivery.
Green Zone Postcodes

Yellow Zone Postcode

Blue Zone Postcodes

Red Zone Postcodes

Purple Zone Postcodes

BT39 0, 9

BT41 1, 2 3, 4

BT42 1, 2, 3, 4

BT43 5, 6, 7

BT1, 2, 3, 4, 5, 6

BT2 7, 8

BT3 9

BT4 1, 2, 3

BT5 4, 5, 6, 7

BT6 0, 8, 9

BT7 1, 2, 3

BT8 6, 7, 8

BT9 5, 6, 7

BT10 0

BT11 8, 9

BT12 4, 5, 7

BT13 1, 2, 3

BT14 6, 7, 8

BT15 1, 2, 3, 4, 5

BT16 1, 2

BT17 0, 9

BT18 0, 9

BT19 1

BT23 4, 7, 8

BT26 6

BT27 4, 5, 6

BT28 1, 2, 3

BT29 4

BT36 5, 6, 7, 8

BT40 1, 2, 3

BT44 8, 9

BT45 8

BT19 6, 7

BT20 3, 4, 5

BT21 0

BT24 7

BT25 1

BT38 8, 9

BT44 0

BT45 6

BT46 5

BT67 0

BT22 2

BT23 6

BT24 8

BT25 2

BT30 9

BT32 4

BT45 7

BT51 5

BT53 6, 7, 8

BT66 7

BT67 9

BT80 0

BT22 1
Question 3. Is my driveway too narrow for delivery?

Delivery is our speciality and we will do our best to make your delivery happen. However, if there are difficulties that you can foresee then please contact us and let us know what they are, so that we can adjust your delivery accordingly. When the access is not suitable for a heavy vehicle, offloading will be at the discretion of the driver. In these circumstances, delivery can only be made at the kerbside.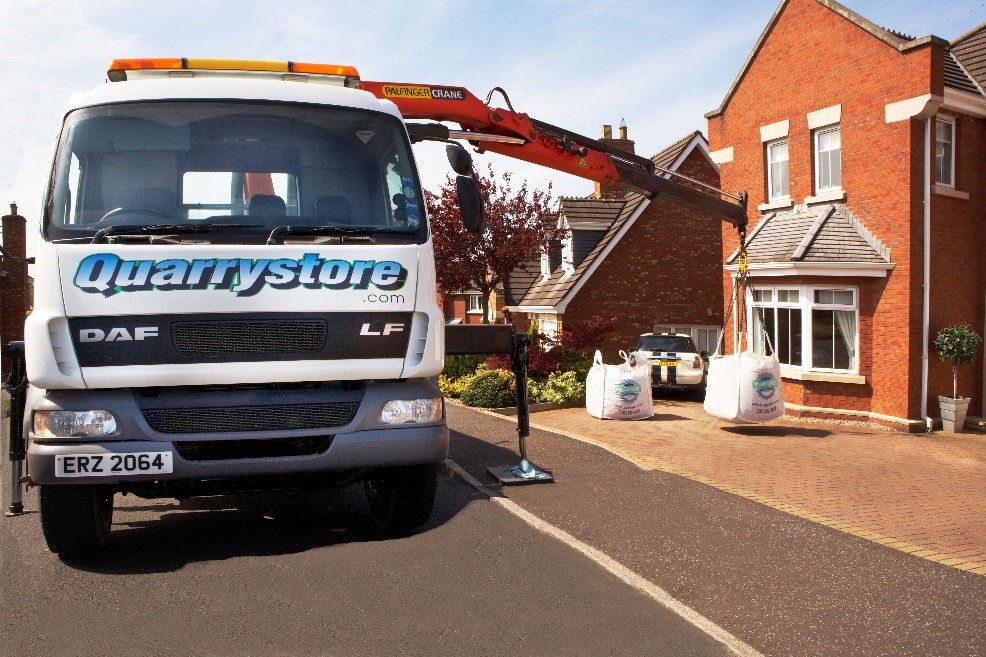 Question 4. How fast can you deliver?

We want to get your products to you when you need them most. So we offer you the choice of a 'standard delivery' which is 2-5 days, or a next day/ Saturday delivery.
Please take note: Next Day Delivery can only be guaranteed if your order is placed online BEFORE 12 NOON.

Question 5. How much will delivery cost?
You can do this for yourself if you follow these two steps and use the table provided.
• Firstly, find out which zone your delivery address is in. It is important to note that the Green, Yellow, Blue, Red and Purple zones will all be delivered by Quarrystore craned lorries.
• Now, what is the nature of your delivery? For example, is it a next day delivery you need and do you need only small bags? Use the table below to find your delivery charge.
Bag Size

Green Zone

Yellow Zone

Blue Zone

Red Zone

Purple Zone

Standard Delivery (2-5 days)

Small bags (<450kgs)

£4.99

£9.99

£12.99

£14.99

£19.99

1-4 Bulk Bags (>450kgs)

£9.99

£19.99

£19.99

£29.99

£34.99

5+ Bulk Bags

FREE

FREE

FREE

£9.99

£14.99

Next Day/ Saturday Delivery

Small bags (<450kgs)

£9.99

£14.99

£19.99

£25.99

£29.99

Bulk Bags (>450kgs)

£19.99

£39.99

£39.99

£39.99

£44.99
PLEASE NOTE: The table above applies for a maximum of 14 Bulk Bags within each zone and next day delivery is only guaranteed where customers place their online orders before 12 noon.
**Any bags ordered that are surplus to requirements are subject to a £25 handling fee**
We are confident our prices, products and service will impress you and there will not be any need for the returns policy; but it is there to give you peace of mind.